Julien is an NPC in Dragon's Dogma.
Name: Julien
Role: "Night's Champion"
Body: Athletically Stylish
Personality: Reserved, passionate, scientific, tacticful. Loyal to his country to a fault(devolve into nationalistic tendencies).
Relationship: Possible Romance
"A knight who was dispatched to Gransys from the neighbouring demesne of Voldoa. He is an upstanding man who believes that putting the needs of the people first is the only right thing to do."

Having been born to a good family, Julien believed without a hint of reservation or irony that everything was for the sake of the people, exactly as he had said to his ruler. Such was his duty as a knight, as it had been the duty of his father and his grandfather before him. However, upon arriving in Gransys he was faced with the dirty truth, for there he met with the decadent, fallen statesmen. They had forgotten that which should have been their priority—the defeat of the dragon—and instead their heads were filled only with the desire to protect their own positions.
As he beheld the great leader who stood at the head of such men, the purity in his heart began to slowly but surely blacken. He can no longer find any value in the continued existence of the country. The idealism to which he had clung for so long grows more and more distorted, and he along with it.
(*Spoilers* - Romance is Quest Related)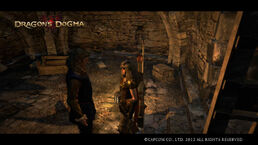 During Julien's duel with Mercedes, to be able to romance this character in the future the Arisen must step in and kill Julien. After the duel, he can be revived with a Wakestone. He will then be in the Duke's dungeon after this event, and can be visited and given gifts.
If you return to Gran Soren after the Final Battle and visit Julien in his jail cell, he will state that the Dragon has come even though you've killed it in the aforementioned quest.