Leather Circlet is armor available in Dragon's Dogma.
Description
"A crown of layered tanned hide. Light, sturdy, and highly resistant to magickal attacks."
Usable By
Stats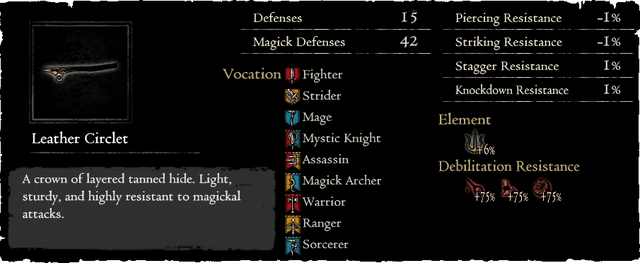 Locations
Enhancement Item Locations
Notes
While it is no longer true in Dark Arisen, this item offered the best debilitation resistance total of all the headgears. It is still only matched in that respect by the Carrion Veil and the Grave Veil.
It is a readily available precaution when encountering Death in Bitterblack Isle. Barroch sells the item at convenient locations. The Leather Circlet can be Dragon Forged easily when fighting the Cursed Dragon. The components to silver and gold rarefy the circlet are dropped by Bitterblack Isle enemies. Finally, Barroch is close by to perform the silver and gold rarefying process. The gold rarefied Leather Circlet provides complete immunity against Death's Sleep debilitation.
Gallery