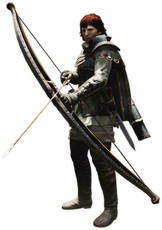 Large bows wielded exclusively by the
Ranger
. They fire at a slower rate than regular
bows
, but in return are more powerful, more accurate and can hit targets from further distances.
Longbow skills are primarily based around powerful shots and sniping foes from afar.
Longbows List
Edit
All longbows are listed with dragonforged stats and are sorted from strongest to weakest using the strength and magick stats combined.