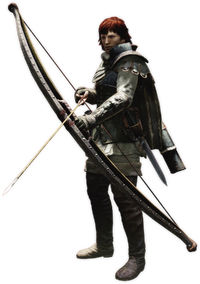 Large weapons crafted to exert strong tension to fire further away and deal more damage, Longbows are used to snipe enemies before they have a chance to react and are wielded exclusively by the Ranger. Longbows fire arrows as a source of damage and as such, deal Blunt damage, though when loaded with Special Arrows, they can deliver additional or different types of damage and/or debilitations with each shot.
Longbow skills are based around powerful shots and are intended to snipe at foes from afar. They fire at a slower rate than their cousins, but in return are more powerful, more accurate and can hit targets from further distances. 
The other types of bows are the Shortbows and Magick Bows. These are reserved for the Strider/Assassin vocation and Magick Archer vocation, respectively.
Longbows List
All longbows are listed with dragonforged stats and are sorted from strongest to weakest using the strength and magick stats combined.
Ad blocker interference detected!
Wikia is a free-to-use site that makes money from advertising. We have a modified experience for viewers using ad blockers

Wikia is not accessible if you've made further modifications. Remove the custom ad blocker rule(s) and the page will load as expected.