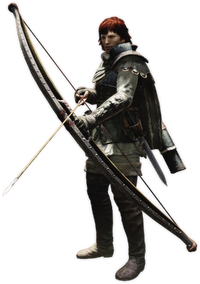 Large bows with excellent range wielded exclusively by the Ranger. Like shortbows, they deal Blunt Damage. They fire at a slower rate than shortbows and reduce mobility, but in return are more powerful with better range.
Longbow Skills include sniping shots, high powered strikes and multi-arrow shots, as well as skills designed to debilitate.
Longbows List
All longbows are listed with dragonforged stats and are sorted from strongest to weakest using the strength and magick stats combined.