Lost Faith is a quest available in Dragon's Dogma.
Objective
"Father Clemente misplaced his scriptures and has great need of them. They must be reclaimed at once."
Details
Search for the Scriptures
Seek Father Clemente's missing book. Like as not, it remains in the village.
Return the Scriptures
You found the tome. Bring it back to Father Clemente.
Quest successful
You recovered the scriptures and returned them to their rightful owner.
Walkthrough
Upon exiting the church you'll come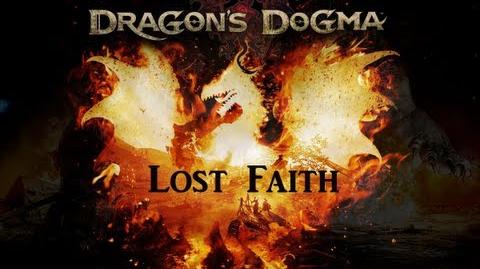 across a boy called
Lewes
, who admits to having lost the scriptures.
He is of no more help than that though, so just go get them yourself. They're located on the roof of the building your waypoint marks. You can jump to it from the ledge near the church.

Notes
This quest can be easily missed when starting the game. It cannot be completed once the quest Off With Its Head has been completed.
There is also a Lost Faith DLC quest named exactly the same as the main game quest. This quest should not be mistaken from the main quest as it is a seperate quest in itself.