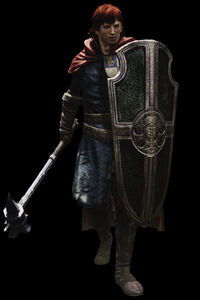 Heavy blunt weapons, these powerful weapons are exclusive for Mystic Knights. Maces represent a nice balance between the Sword and the Longsword. Stronger than the former, and swings faster than the latter. Maces deal Blunt damage.
Maces and Magick Shields are exclusive to the Mystic Knight class, a Hybrid Vocation, and as such can not be equipped by a pawn, nor traded or gifted to another player.
Like the Sword, one-handed Mace skills are primarily based upon exploiting the versatility of the Mace, movement of the player, and openings left by the enemy. Using a shield in combination with a Mace allows the player to exploit both versatile attack and defense, turning them into a deadly opponent.
Maces List
All maces are listed with dragonforged stats and are sorted from strongest to weakest using the strength and magick stats combined.