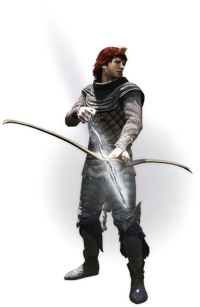 Magick empowered bows are unique, enemy-seeking ranged weapons that can fire magick arrows without the need of a quiver, which then home in on enemies. Magick Bows are used exclusively by Magick Archers. Unlike the physically based Shortbows and Longbows, their damage is based on the Arisen's Magick, and deal entirely magical damage with no physical component.
Magick Bows are exclusive to the Magick Archer class, a Hybrid Vocation, and as such can not be equipped by a pawn, nor traded or gifted to another player.
Skills
Magick Bow Skills are homing projectile attacks. All of its attacks are ranged magick damage, and therefore should be executed at a distance from enemies. Each skill-generated bolt is assigned an element which is in turn unaffected by enchantments. its single-shot bolt will take on the elemental property of the bow or that of an enchantment provided by a pawn.
Other types of bows are the Shortbows and Longbows and are reserved for the Strider/Assassin vocation and Ranger vocation, respectively.
Magick Bows List
All magick bows are listed with dragonforged stats and are sorted from strongest to weakest using the strength and magick stats combined.
Notes
Because they identify targets within the bow range, Magick Bows can be used in almost complete darkness to detect hidden enemies.
The spellbow's inherent element (or lack thereof) can be temporarily overwritten by an elemental buff from a pawn; this buff will only affect the single-fire bolt. Skill-generated bolts are unaffected by elemental buffs.
The bolts fired by Magick Bows home in on enemies. The core skill True Seeker improves its homing ability.
It is still possible to hit some enemies which seem to be outside the magickal bow range by targeting them normally (as you would a short or long bow). The Ranger augment Trajectory also works with magic bows, though targeting is not improved.
The augment Conservation has no effect on the use of a Magick Bow.