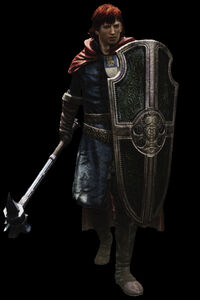 Large heavy shields that are imbued with magical augmentation. Magick Shields are used both offensively and defensively, and can offer utility for the whole party. They are used exclusively by
Mystic Knights
 and are a vital asset to their arsenal. When parrying attacks, Magick Shields are used to bash the opponent and thus deal
Blunt
damage.
Maces and Magick Shields are exclusive to the Mystic Knight class, a Hybrid Vocation, and as such can not be equipped by a pawn, nor traded or gifted to another player.
Magick Shield skills are primarily based around magical counterattacks and supporting allies. Magick Shields can be furthered imbued with magical properties and can be used a catalyst to enhance the Mystic Knight's attacks. By focusing magick directly into the shield; Mystic Knights can vastly increase attack range which can resonate shockwaves, mass enchant their party's weapons or further enchant the Magick Shield itself to produce various elemental counters versus enemy blows.
Enchanting the shield produces some of the most powerful spell effects available, but those spells only activate on a Perfect Block.
Magick Shields List
Edit
All magick shields are listed with dragonforged stats and are sorted from strongest to weakest using the strength and magick stats combined.