Mercedes Marten
NPC Info

Gender

Female

Age

25

Likes

Cloudwine

Services

Captain of the Enlistment Corps
Quest NPC

Times Active

All Hours
Mercedes Marten is an NPC in Dragon's Dogma.
Name: Mercedes Marten
Role: Daughter in the House of Marten, Captain of the Enlistment Corps
Body Type: Average height with average bust, waist and hip.
Personality: Friendly, but strong strait-laced, principled tomboy with an inferiority complex; idealizes knights and knighthood.

"A female knight who was dispatched from a neighbouring country to Gransys. She is the captain of the Enlisment Corps, which is charged with repelling the dragon."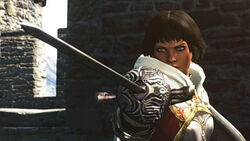 Grende Hearthstone used to lead a company of knights. Of his two sons and his daughter, Mercedes, the brothers also led their own companies of knights. But Grende's hopes for his daughter ran more towards wedding her to an... influential noble or a royal from a neighboring demesne to firm up the power base of the House of Marten. But once she reached marrying age, Mercedes instead asked for her own company of knights. Aware of her own inexperience and that lack of skills required to lead others, she trained until she was reasonably able as a knight.
It was around this time that the dragon appeared in Gransys. If someone from Grende's nation defeated the dragon, it would greatly increase the power of Hearthstone. Grende was not reckless enough to send either of his brave and strong sons. However, he had to send someone of suitable position—someone as closely related to him as possible—or Gransys might take offense. For the first time in years, Grende called Mercedes forth to speak with her.
He hardly wanted his sons to head to the front lines of the battle with the dragon, for to face a dragon was certain death. Mercedes, however, was of suitable position to be Hearthstone's representative. In addition, the people of Gransys would surely never allow a woman to stand on the front lines. Unaware of this, Mercedes was happy to receive the orders from her father and set off for Gransys thinking that he had finally given her his approval, not understanding his true reasons...
She, like Julien, speaks with a French accent.