Nameless Armor Set is DLC armor available in Dragon's Dogma.
Description
"Shiny steel armor whose ponderous, looming design is something rarely seen in Gransys."
Notes
The armor set worn by Julien, this may be one assigned to higher officers of Voldoa. It's worth noting that this version of armor is what Julien wears as part of his Salvation activities. Julien's official armor is similar, but the black cape and surcoat is replaced with a blue and yellow colour scheme, which is attainable as Set of Voldoan Armor
It's also worth mentioning that Julien wears this armor alongside a similarly styled mask, but this is not part of the Nameless Armor set, nor can any headwear be worn alongside it due to it being an outfit. As it is an outfit, it can be worn by any vocation. Interestingly, this provides Sorcerers and Rangers the means of wearing heavy armour.
Usable By
Stats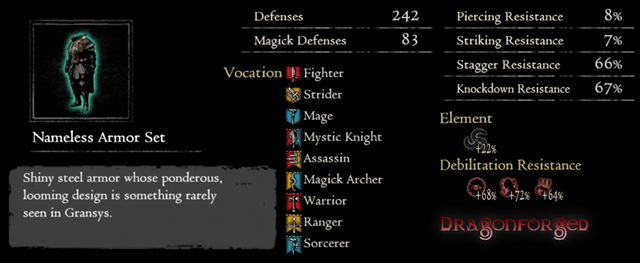 Location
Enhancement Item Locations