Nebula Cape is a cloak available in Dragon's Dogma.
Description
Edit
"A cape with an otherworldly sheen. It wraps the wearer inside a great, mysterial form of consciousness."
Usable By
Edit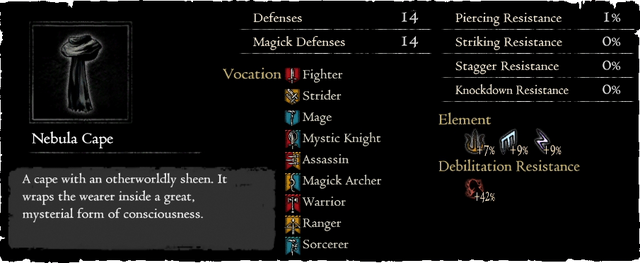 Enhancement Item Locations
Edit
It is one of two capes in the game that has a shimmering texture, the other cape being the Monomi Neck Wrap.  Neither emits light..
The "Dragon's Dogma Design Work" shows a cape alike to the Nebula cape worn with the Abyssinal Armor Set - which it complements in terms of resistances.
While not the best cloak overall in terms of defenses, it provides the best Elemental Resistances possible.
The upper part of the Nebula Cape is similar in appearance to the Ebon Neck Wrap. Major differences are the shimmer and the lack of a trailing scarf end partially covering the character's back.
Ad blocker interference detected!
Wikia is a free-to-use site that makes money from advertising. We have a modified experience for viewers using ad blockers

Wikia is not accessible if you've made further modifications. Remove the custom ad blocker rule(s) and the page will load as expected.