Nebula Cape is a cloak available in Dragon's Dogma.
Description
"A cape with an otherworldly sheen. It wraps the wearer inside a great, mysterial form of consciousness."
Usable By
Stats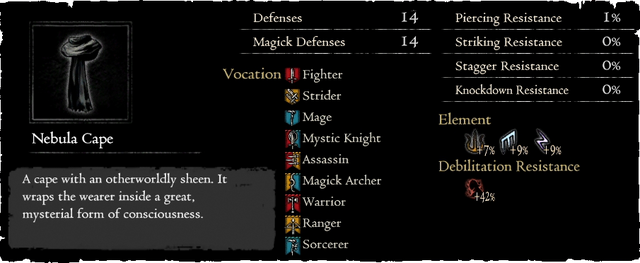 Location
Enhancement Item Locations
Notes
It is one of two capes in the game that has a shimmering texture, the other cape being the Monomi Neck Wrap.  Neither emits light..
The "Dragon's Dogma Design Work" shows a cape alike to the Nebula cape worn with the Abyssinal Armor Set - which it complements in terms of resistances.
While not the best cloak overall in terms of defenses, it provides the best Elemental Resistances possible.
Trivia
The upper part of the Nebula Cape is similar in appearance to the Ebon Neck Wrap. Major differences are the shimmer and the lack of a trailing scarf end partially covering the character's back.
Gallery