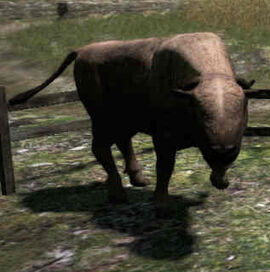 Oxen are naturally occurring Fauna in Dragon's Dogma.
Description
Oxen are wild and domesticated cattle that roam the woodlands and plains of Gransys. Although docile, they will become aggressive if attacked. They are often preyed upon by Griffins and can be used to lure the beast from the sky.
Oxes are peaceful creatures and will not attack unless provoked, and once they have attacked back if not provoked further they will return to their peaceful grazing.
Stats
Health
Attack
Defense
Magick
Attack
Magick
Defense
Weight
2200
300
50
10
50
 ?
Relative
Damage
Taken
Slash
Bash

Fire

Ice

Thunder

Holy

Dark
100%
100%
100%
100%
100%
100%
100%
Sources: Dragon's Dogma - ドラゴンズドグマ & Dark Arisen (www10.atwiki.jp), the 'Dragon's Dogma Signature Series Guide' and in-game testing.
Attacks
| Attack | Type | Description |
| --- | --- | --- |
| Head Butt | Phys | Swings its head to strike any attacker that strikes from the front in close proximity |
| Charge | Phys | Turns to face an attacker, and after pawing the ground charges forward in a straight line |
Notes
Vulnerable to all debilitations, except Frozen.
If the Arisen climbs onto their back they will run off and try to buck, while pawns give chase and try to kill the Ox.