"And now again, the choice is yours, Arisen."


This article provides information and/or facts that contain spoilers.
Please read with caution or refrain from proceeding further.
Post-Game (also known as Post-Dragon) is the state of the game after the defeat of the Dragon during The Final Battle. Gran Soren is partially destroyed during the opening of The Everfall and the world becomes darker and more dangerous; the sky becomes very dark and cloudy, and strange, more powerful monsters roam the lands.
Quests at Stage 7
Main Quests
Changes to Gran Soren
The Venery, Aqueduct, Slums and a part of the Urban Quarter are destroyed, collapsing into and leaving open the expanded version of The Everfall.
The Everfall itself is drastically changed in structure (see Post-Dragon Everfall), and becomes host to monsters far more dangerous than previously seen, including Gorechimera, Evil Eye, Archydra and Liches, as well as the Ur-Dragon.
Upon completion of the quest A Warm Welcome, you will also be branded a traitor by the Duke and will be attacked and pursued by the Guards if the Noble Quarter is entered.
Changes to Cassardis
Some people will move to Cassardis after The Final Battle.
Changes to Gransys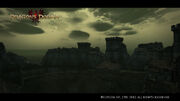 Visibility throughout Gransys becomes poor, as the sky is dark even during the day. Additionally, fiercer and more dangerous monsters appear in several locations.
Dragons
Large monsters
Other monsters
The Everfall
The Everfall (Post-Dragon) is changed substantially on the death of Grigori, with it opening up and much of Gran-Soren collapsing into it - it then becomes host to a variety of the fiercest monsters.
For lists of the creatures see The Post-Dragon Everfall §Chambers, or the individual articles in Category:Everfall
Notes
Some people dislike the post-game dark skies, and use a glitch to be able to play the post-game with clear skies. A guide to performing the glitch is given at Dragon's Dogma Clear Skies Post Game Guide (www.youtube.com)
In the PC version you can easily edit your save file to have the same effect without using the glitch.