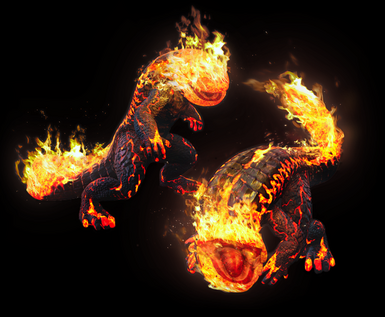 Pyre Saurian (called Salamander in Japanese) is an Enemy in Dragon's Dogma: Dark Arisen.
Overview
Pyre Saurians are a subspecies of Saurians that dwell within Bitterblack Isle. These Saurians are enveloped in flame. 
Unlike their Saurian cousins, Pyre Saurians lack the spinal spikes that run up the back and the horn-like manes most Saurians seem to possess; their tails are flat at the tip.
The Pyre Saurian's body is a charcoal black with random breaks of molten red and yellow, its mouth and tail are constantly ablaze unless dowsed with water or ice.
Stats
Health
Attack
Defense
Magick
Attack
Magick
Defense
Weight
15,000
1,750
630
1,900
680
 ??
Relative
Damage
Slash
Bash

Fire

Ice

Thunder

Holy

Dark
100%
60%
immune
200%
100%
100%
100%
Sources: Dragon's Dogma - ドラゴンズドグマ & Dark Arisen (www10.atwiki.jp) and in-game testing.
Attacks
| Attack | Type | Description |
| --- | --- | --- |
| Flame Cloak | Mag | Emits an aura of flame around its body dealing damage to nearby targets. Can cause Burning. The flames can be temporarily extinguished by water, Ice-based attacks or by cutting its tail. |
| Fire Breath | Mag | Spits a moderate stream of fire in a frontal arc. Can cause Burning and Knockdown. |
| Snap | Phys | A short delay, followed by a powerful snap at their target. |
| Reignite | Spec | Reignites itself in flames. |
| Controlled Fall | Spec | Tucks the body into a tight roll when falling, mitigating harm. |
Tactics
Ice-based attacks, or attempts to inflict Drenched, and cutting the tail will douse their flames.

If then hit with a Fire-based spell (or item) or a Fire-enchanted weapon, they may reignite

The Pyre Saurian's Fire Breath can be blocked with a shield.
Pawn Bestiary Knowledge
For full information, refer to the Bestiary or the according section on the Saurian page. Enemy specific:
Extinguish its flame cloak (douse with water, attack with Ice, cut the tail).
Attack with fire to reignite them
Get burned by its flame cloak (Pawns may warn "Simply touching them yields grievious burns!")
In addition to witnessing these techniques, it is necessary for Pawns to participate in killing 300 Pyre Saurians either with their own Arisen or while travelling with others.
Gallery
Trivia
The original name is a reference to amphibians known as Salamanders - the mythical properties of which include an association with fire. (see Salamanders in Folkore wikipedia)
References