Reaper's Scorn is a quest available in Dragon's Dogma.
Objective
Edit
Beside himself with grief, a father named Austine begs you deliver miraculous stones that might bring his departed son back to life.
Speak with Austine in the Craftsman's Quarter to obtain the quest.
Deliver a Wakestone to Austine.
Obtain a Wakestone and give it to Austine.
Quest Successful
The Wakestones' power pulled Austine's son back from beyond death's veil. Quest reward received.
Walkthrough
Edit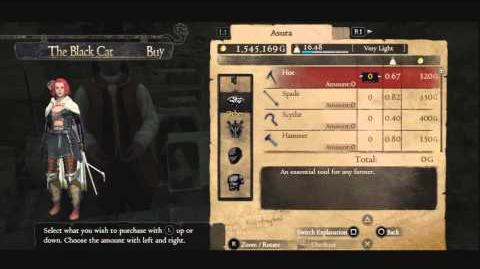 This quest becomes available after completing Off With Its Head. Speak with Austine in the Craftsman's Quarter. He will recount the sad passing of his son Wilhem who can only be revived by a Wakestone. He has been collecting shards of a Wakestone, but he doesn't have enough. He asks for help in acquiring a Wakestone Shard to create a complete a Wakestone.
Deliver a Wakestone to Austine
Edit
After accepting his quest Austine will hand over two Wakestone Shards. In order to create a complete Wakestone, one more shard is required. There are a number of ways to obtain this shard, but the easiest way would be to venture into the Everfall (where Wakestones are abundant) and obtain it there.
It is highly advised to combine this quest with the quest Lure of the Abyss as there will be a Wakestone shard at the bottom of the (Pre-Dragon) Everfall, but only after accepting the quest from Austine. For more information on how to get this item in the Everfall see the quest Lure of the Abyss.
If the Wakestone Shards or Wakestone are somehow lost (or used) prior to giving it to Austine, there are other ways of obtaining Wakestone Shards (besides finding them within the Everfall) :
Once three shards are collected they will automatically transform into a Wakestone. All shards must be in a single character's inventory for this to occur. Return to the Craftsman's Quarter near the Pawn Guild, stand over Wilhem's lifeless corpse and use the Wakestone to revive him.
Quest Successful
Edit
After invoking the Wakestone, Wilhem returns to life and quest reward is granted.