Reynard is an NPC in Dragon's Dogma.
Description
Edit
A wandering merchant who travels the length of the peninsula. He is always on the lookout for rare items.
Reynard is a traveling peddler, wandering all around Gransys to sell his wares. He can also provide services for enhancing equipment.
Questlines
Edit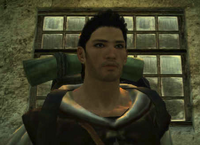 Reynard is first encountered shortly after meeting Rook and exiting Cassardis for the first time. He will be found on the way to The Encampment, and will need to be rescued from a group of Goblins.
Reynard's backstory and main questline is told in the quest Search Party; which involves gathering rare objects for him from across Gransys. In return, his inventory of purchaseable equipment expands with each collection, oft featuring rare clothing, armor, and enchanted weaponry that may not be found otherwise.
Other quests include the escort quest to The Greatwall in the Peddler's Petition which is available early in the game from the Union Inn, Grans Soren. Post-Game, the quest Committed to Memory requires collection of 10 pieces of Gran Soren Rubble.
Reynard may also supply affidavits of dubious provenance during the Trials and Tribulations quest. (Fournival's trial)
Caution! Completion of the Search Party quest removes him from the game until New Game Plus. If ard becomes the Arisen's beloved then he can be found Post-Game in "Your house" in Cassardis selling his wares, nullifying the Search Party ending scene).
Locations
Edit
After completing the quest Off With Its Head, he can randomly be found in the following areas :
Items Sold
Edit
Some of the items listed are related to the quest Search Party. Part 1 indicates after giving him Scrap Iron and Part 2 indicates after giving him Miasmite as part of the quest (not as a gift). If Parts 1 & 2 of Search Party are completeed early in the game (as early as stage 1), Reynard will sell some high quality items much earlier in the game than they would otherwise be available.
'Stage' refers to at which segment within the Main Quest that the item first becomes available to purchase. For further details of the 'stages', refer to the Shopping page.
Much of Reynard's basic weapons & armor are sold only at Stage 1, i.e. when he's located at The Encampment, before the Quest Off With Its Head is completed. Completion of that Quest moves the game into Stage 2, grants access to the Gran Soren vendors, triggers Reynard to start moving locations and removes the items listed as 'Stage 1 only' from his stock.
Item Notes
Edit
The 'Amount In Stock' for some items increases depending on how far the player is through the game.
| Torso Armor | Stock | Price | Availability |
| --- | --- | --- | --- |
| Chestguard | 1 | 3,340 G | Stage 1 only |
| Sectional Armor | 1 | 3,600 G | Stage 1 only |
| Healer's Robe | 1 | 2,310 G | Stage 1 only |
| Mummer's Wear | 1 | 23,110 G | After Pt 2 of Search Party |
| Leather Belts | 1 | 3,080 G | Stage 1 |
| Bone Plate Armor | 1 | 4,520 G | After Pt 1 of Search Party |
| Bone Armor | 1 | 14,640 G | After Pt 2 of Search Party |
| Scale Coat | 1 | 22,700 G | After Pt 1 of Search Party |
| Padded Armor | 1 | 15,600 G | Stage 2 |
| Flutter Padding | 1 | 43,000 G | Stage 4 |