Rotunda of Dread is a location in Dragon's Dogma: Dark Arisen.
Overview
Rotunda of Dread is an area in the labyrinth of Bitterblack Isle.
Accessed from the third floor of the Duskmoon Tower, the Rotunda of Dread does not connect to other dungeons.  
It shares its arena style with The Black Abbey and has the same function as an arena for Arisen and Pawns to fight enemies. Each time the Rotunda of Dread is visited, a different enemy combination spawns. The Rotunda may be immediately re-entered repeatedly with fresh enemies to fight ad infinitum, making it a great farming location.
Enemies
Loot
Refer to map for chest locations
Native plants include Kingwarish and Cragshadow Morel. There are several armor piles from which may be gather useful items including Cleansing Earring, Liquid Vim, Blast Arrow, or Poison Flasks. Ore deposits here may yield : Alluvial Yore-Ore, Hunk of Platinum, Lava Rock, Sand-Layer Ore, Gold Ore, Silver Ore, or Copper Ore. There are also a number of Explosive Barrels.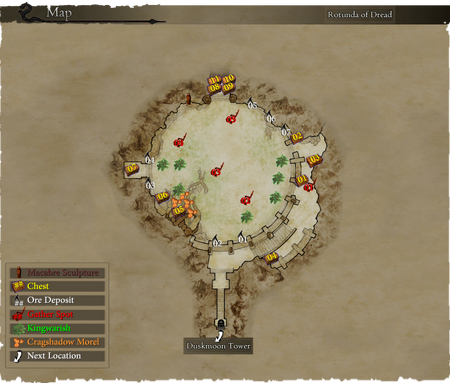 Chests
No.
Loot
1
Golden Ring, Rift Bicrystal, Bitterblack Gear Lv.1, Bitterblack Novelty Lv.1, Ring of Pearl

Post-Daimon : Bitterblack Novelty Lv.2 , Rift Polycrystal , Platinum Ring

2
Bitterblack Novelty Lv.1 (common), Bitterblack Gear Lv.1 (uncommon), Bitterblack Armor Lv.1 (verify) (very rare)

Post-Daimon : Bitterblack Armor Lv.2 , Bitterblack Gear Lv.2

3
Rift Cluster or Rift Bicrystal, Rousing Perfume, Detoxicating Powder, Lordly Tonic , Tattered Mantle

Pre-Daimon: Rift Crystal

4
Conqueror's Periapt (v. common), Vigilite, Large Coin Pouch, Wakestone Shard, Tattered Mantle, (common), Wakestone
5
Rift Bicrystal, Salubrious Brew

Pre-Daimon: Stone-Moss Poultice, Balmy Perfume

6
Balmy Perfume, Detoxicating Powder, Rift Crystal, Rift Bicrystal

Pre-Daimon: Lordly Tonic

7
Ring of Pearl, Golden Ring, Rift Bicrystal, Bitterblack Gear Lv.1, Bitterblack Novelty Lv.1

Post-Daimon : Rift Polycrystal , Platinum Ring , Bitterblack Novelty Lv.2 

8
Stone-Moss Poultice, Salubrious Brew

Post-Daimon: Balmy Perfume

9
Rift Cluster

Pre-Daimon: Lordly Tonic

Post-Daimon: Detoxicating Powder

10
Giant Coin Pouch, Conqueror's Periapt, Tattered Mantle, Wakestone Shard, Wakestone

Pre-Daimon: Wakestone, Conqueror's Periapt, Vigilite

11
Stone-Moss Poultice, Wakestone Shard, Large Coin Pouch

Pre-Daimon: Large Coin Pouch
Notes