Set of Caretaker's Garb is DLC armor available in Dragon's Dogma.
Description
"Men's modest, high-quality attire. Gives an appearance of sincerity to whoever wears it."
Usable By
Stats
* Values in parentheses reflect the Dark Arisen expansion.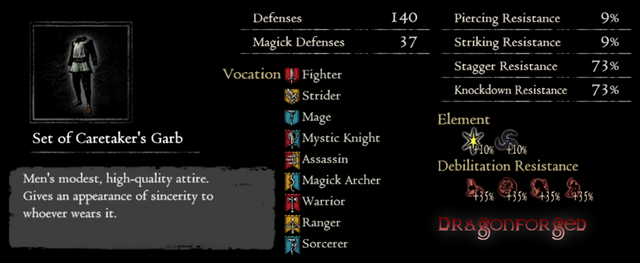 Location
Enhancement Item Location
Notes
While it's overall a weak armor, it offer surprisingly high Stagger and Knockdown Resists right from the start.
Starting at level three, this set description include some strange "Better resist Draining attacks. Better resists Barrage attacks". Whatever effect those garbs offer (if any) is currently unknown.
Ad blocker interference detected!
Wikia is a free-to-use site that makes money from advertising. We have a modified experience for viewers using ad blockers

Wikia is not accessible if you've made further modifications. Remove the custom ad blocker rule(s) and the page will load as expected.