Set of Fisherman's Garb is armor available in Dragon's Dogma.
Description
"Traditional Cassardi wear, a hallmark of Gransys culture for generations."
This is the clothing worn by the Arisen prior to the attack of the Dragon - their own set, damaged by the Dragon, become the unique Set of Fisherman's Tatters.
Iola can supply a new set from her shop in Cassardis in New Game Plus.
Usable by
Stats
Upgrade
Level
0

1

2

3

Upgrade
Requirements
N/A
2,730 G
7,980 G
Clean Cloth x3
25,400 G
Hemp x5
Click here for
requirements
2,500 RC

5,000 RC


Netherstone x3

Defense
30
43
54
85
121
180
220
Magick Defense
24
35
45
72
96
164
204
Piercing Resist
4%
4%
4%
4%
4%
4%
4%
Striking Resist
3%
3%
3%
3%
3%
3%
3%
Stagger Resist
17%
17%
17%
30%
45%
53%
61%
Knockdown Resist
15%
15%
15%
28%
43%
51%
59%
Elemental Resist
Ice +4%
Ice +4%
Ice +8%
Ice +12%
Ice +16%
Ice +22%
Ice +34%
Debilitation Resist
Skill Stifling +33%
Skill Stifling +33%
Skill Stifling +66%
Skill Stifling +99%
Poison +99%
Blindness +99%
Skill Stifling +99%
Curse +99%
Poison +99%


Blindness +99%
Skill Stifling +99%
Curse +99%

Poison +99%


Blindness +99%
Skill Stifling +100%
Curse +99%

Weight
0.96
0.96
0.91
0.82
0.72
0.72
0.72
Bonus

-
As of Dragon's Dogma: Dark Arisen the following changes have been made: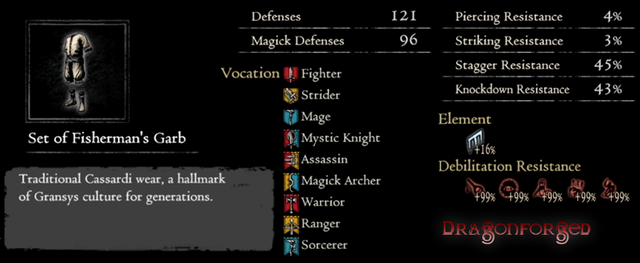 Enhancement Item Locations