Set of Royal Guard Armor
Comments

14
2,977pages on
this wiki
Set of Royal Guard Armor
Armor Info

Base Weight

12.10

Type

Outfit
Set of Royal Guard Armor is armor available in Dragon's Dogma.
Description
Edit
"A replica of the armor worn by Gran Soren soldiers. Matches the look of the original, but cannot offer the same protection."
Usable by
Edit
All Vocations.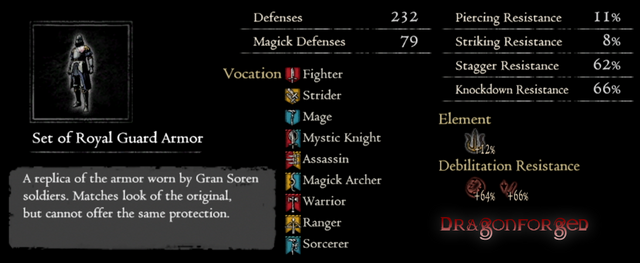 Enhancement Item Locations
Edit
Love in the Rough is obtained at the end of Duchess in Distress so it can be forged up to 3 stars right away provided you have the gold.
The Royal Guard Armor Set also allows you to walk around the Dukes Demesne at night without getting arrested but the guard at the treasury will still stop you.
You cannot add a cloak to this armor, however you can still equip an accessory.