Set of Servant's Garb is armor available in Dragon's Dogma.
Description
"A set of clothing worn by servants in the castle. Meant for a women, though men without shame might also wear it."
Usable By
Stats
As of Dragon's Dogma: Dark Arisen the following changes have been made: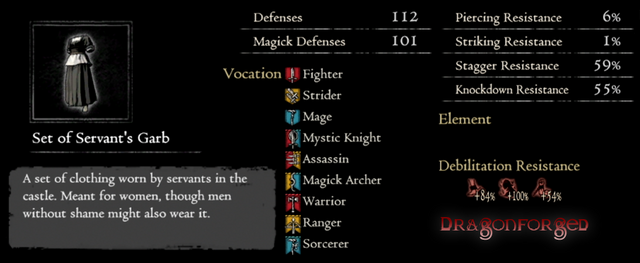 Location
The Duchess's Bedchamber. It can be found at any time of day or night or after the quest Arousing Suspicion. Its gather spot is located behind the changing screen where you are forced to hide. It may take a few tries as is a random and rare drop. If after a few tries you are still having difficulty (ie, coin drops only), trying again at night may yield a higher probability of this loot spawn.
The Duchess' quests do not need to be active to find it.
Enhancement Item Locations
Notes
Putting this on a male character awards the trophy/achievement A Queen's Regalia.
Equipping the Servant's Garb on male party members has the same effect as the Set of Lady's Garb. For example Ophis and Ogres will react differently towards male party members.
This item respawns after approximately 5 ingame days.
Entering the Duke's Demesne wearing a Set of Royal Guard Armor allows the Arisen to proceed through the castle without being interrupted by the guards on duty.
This outfit can easily be found during Post-Game as no guard will stop you whether it be day or night, provided A Warm Welcome has not been completed.
Entering the castle through the secret entrance into the Dungeon through The Slums makes it possible to enter the castle anytime day or night, provided you have a Skeleton Key with you.