Siegfried Mask is armor available in Dragon's Dogma.
Description
"A mask named for a hero from beyond the rift. Wearing it bestows the user with holy protection."
Usable By
Stats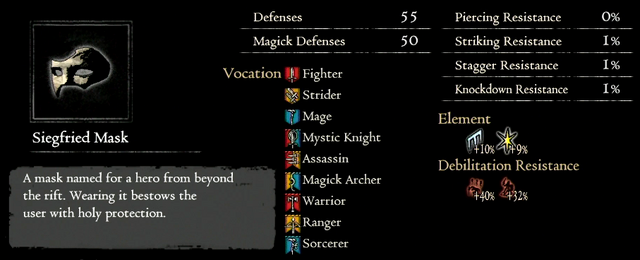 Location
Random reward for only those who obtain a kill on the online Ur-Dragon. The Online Ur Dragon will bestow one of the four masks as part of a kill reward.
Enhancement Item Locations
Trivia
This mask is named after the legendary Siegfried (AKA Sigurd), a hero in Norse and Germanic mythology known for slaying the dragon Fafnir in the Volsunga saga. Although he was born a dwarf, Fafnir was cursed for his greed and transformed into a dragon. Siegfried would eventually slay Fafnir with the re-forged sword Gram, composed of fragments of his father's sword shattered by Odin himself. Dating back to the 11th century, this legend has been retold with numerous variations, most famously in the third opera ("Siegfried") of Richard Wagner's four part epic Ring cycle.
Siegfried is a German language male given name, composed from the Germanic elements sig "victory" and frithu "protection, peace". The German name has the Old Norse cognate Sigfriðr, Sigfrøðr, which gives rise to Swedish Sigfrid (hypocorisms Sigge, Siffer), Danish/Norwegian Sigfred.
Gallery