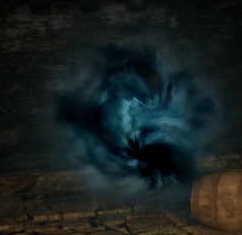 Specter is an Ghostly enemy in Dragon's Dogma.
Overview
Specters are dangerous black versions of Phantoms feared by all Pawns for their deadly possession attack. They have more health but are still highly vunerable to Holy attacks and Magick attacks.
The possession attack takes two forms - like other ghosts a Specter initiates possession by clinging onto a victims head - the usual form of possession may drain health, and if a pawns health is reduced to zero it will be returned to the rift with no opportunity to revive.
A second form is known - the Specter clings on as before but then leaves the host after a short while - sometimes this attack will be successful in taking control of the pawn and causing it to turn sides and target the Arisen. As with Dragonkin possession such a possessed pawn must be defeated or cured. However if day breaks the pawn will be released from the specter's hold and its health reduced to zero - in such a state the pawn can be then revived and becomes an ally once more.
Stats
Stats
Health
Attack
Defense
Magick
Attack
Magick
Defense
Weight
3000
1
200
400
250
incorporeal
Resistances
Slash
Bash

Fire

Ice

Thunder

Holy

Dark
immune §
immune §
100%
100%
100%
350%
50%
Information from  : Dragon's Dogma - ドラゴンズドグマ & Dark Arisen (www10.atwiki.jp), the 'Dragon's Dogma Signature Series Guide' , and from in-game testing..
§ Except when possessing a victim
Tactics
Immune to all debilitations.
Vulnerable to magic attacks.
Weak against Holy magic and weapons.
Vulnerable to physical attacks when they possess allies.
Physically attacking them often results in their disappearance and becoming temporarily intangible. They will reappear after a few seconds in the exact spot they were struck.
Melee attacks are ineffective - unenchanted weapons may inflict a very small amount of damage, less than 10hp
When adventuring solo a ghost's possession attack may sometimes be broken physically by throwing an item whilst possessed.

Use of Throwblasts in this fashion easily defeats the specter

Having a Specter passing through a Pawn or the Arisen grants a temporary boost in Strength.
Pawn Bestiary Knowledge
For full information, refer to the Pawn Bestiary Knowledge page or the according section on the Phantom page.
Enemy specific :
In addition to witnessing these techniques, it is necessary for Pawns to participate in killing 50 Specters either with their own Arisen or while travelling with others.
Other ghost creatures