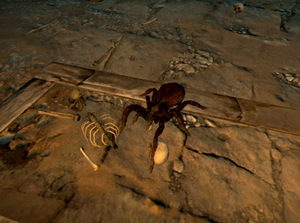 Spider is a Enemy in Dragon's Dogma.
Spiders are arthropods of the arachnid class.
They pose little threat to the player and are easily defeated with a light attack.
However, Spiders spit venom which can inflict Poison and/or Torpor on the party.
Item Drops
The following items can be stolen from Spiders using Master Thief.
Location
Various Caves and Crevices in Gransys :
Throughout Bitterblack Isle  :
Notes