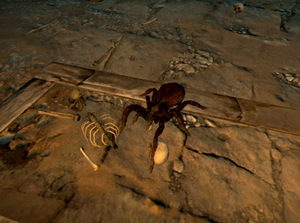 Spider is a Enemy in Dragon's Dogma.
Spiders are arthropods of the arachnid class.
They pose little threat to the player and are easily defeated with a light attack.
However, Spiders spit venom which can inflict Poison and/or Torpor on the party.
Item Drops
The following items can be stolen from Spiders using Master Thief.
Location
Various Caves and Crevices in Gransys :
Throughout Bitterblack Isle  :
Notes
Ad blocker interference detected!
Wikia is a free-to-use site that makes money from advertising. We have a modified experience for viewers using ad blockers

Wikia is not accessible if you've made further modifications. Remove the custom ad blocker rule(s) and the page will load as expected.