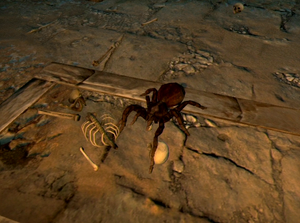 Spider is a Enemy in Dragon's Dogma. Spiders are easily defeated foes, a light attack will suffice to fell them. They are able to shoot a ball of webbing that can cause Torpor to whomever it hits and can also Poison the Arisen or Pawns.
Various Caves and Crevices
Cutlass Cape (During the day)
Miner's Hut (Slightly north the northern quarry entrance)
Spiders can be heard before being seen by the distinct noise they make.