Staff Enchanter's Band is a jewelry piece available in Dragon's Dogma: Dark Arisen.
Description
Enhances two of the following spells:
Can be obtained by purifying Bitterblack Gear Lv.1 or Bitterblack Gear Lv.3.
Usable By
| | |
| --- | --- |
| Defenses | 5 |
| Magick Defenses | 5 |
| Piercing Resistance | 1% |
| Striking Resistance | 1% |
Stats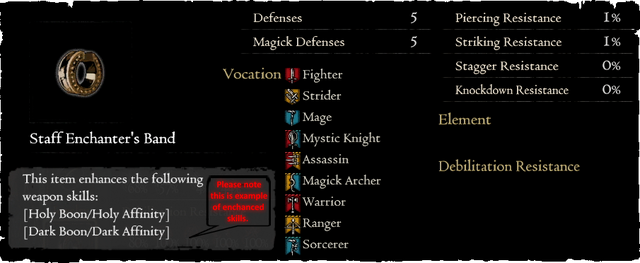 Notes
Only the following bands have surfaced:(verify)
Both Boon and Affinity enchantment spells are upgraded directly to the higher level pact spell.
Extends the user's boon spell to roughly 3 minutes.
This Band best obtainable by purifying when Arisen and Pawn have either Sorcerer or Mage vocation. The vocations Mystic Knight and Magick Archer also may yield this ring on purifying a suitable item.