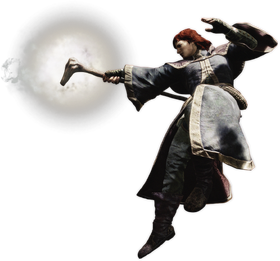 Short rods capable of ampfliying the user's Magick abilities, Staves are wielded by Mages, Magick Archers, and Mystic Knights. They have great utility; being able to cast healing spells as well as offensive and defensive magick. Unlike Archistaves, Staves can be used in melee to bludgeon enemies; thus are capable of dealing Blunt damage.
Staff skills are based around magick that serves all manner of functions. More prominently, purchasing the perk Levitate with Discipline Points allows the caster to levitate in the air for a few moments. This is a very valuable perk, if used correctly.
By purchasing the Core Skills; Focused Bolt and Magick Agent for 3,000 Discipline Points each, Mages and Sorcerers can employ special magick attacks that do damage.
Focused Bolt - By holding the light attack button, players can charge a powerful attack that fires bolts of energy from their Staff. It can be charged at any time (in midair, during a roll, etc.) and held for as long as the light attack button is held. Upon release, the character launches the attack. The type of element currently active alters the behaviour of the attack as follows:
No enchantment - Fires a triple volley of non-elemental magick to inflict damage.
Fire - Fires a triple volley of fire elemental magick to inflict damage to the highlighted target and also the ability to possibly inflict burning on enemies.
Ice - Six balls of ice appear in front of the spellcaster, to (after a short delay) strike the highlighted target, inflicting ice elemental damage with a possibility of freezing them.
Lightning - Fires five balls of electricity that ricochet off of the surrounding environment and targets to inflict lightning elemental magick damage and the ability to stun enemies.
Holy - Fires six balls of holy light that hover momentarily before homing in on targets to inflict holy elemental magick damage. There is a chance that some energy is absorbed to heal the caster.
Dark - Six balls of dark energy float slowly to the highlighted target to inflict dark elemental magick damage.
Magick Agent - The user employs magick bolts that fly around them to defend against encroaching enemies by pressing and holding the heavy attack button. The current element that is active has an effect on the bolts, and inflict that type of damage on the enemy, thus applying weaknesses and resistances to that enemy (the Undead, for example, would take more damage from a fire infused Magick Agent, than they would from an ice infused one.)
Notes:
These balls of magick will also cause the Mystic Knight's Magick Cannon / Great Cannon to fire if they make contact.
Staves is one of the two weapon that may give Arisen Strength and Magick Stat,with or without Enchantment.
Staves List
All staves are listed with dragonforged stats and are sorted from strongest to weakest using the strength and magick stats combined.