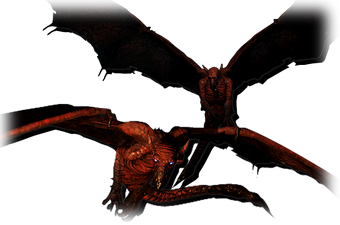 Strigoi is an Enemy in Dragon's Dogma: Dark Arisen.
Information and Stats
These flying beasts are similar in appearance and attacks to that of a Gargoyle, except that they are larger and have red skin. They are aggressive flyers, both lunging and grabbing a person for a stinger attack from the end of its tail to suck blood of its victim.  Draining a victim makes Strigoi stronger; success is indicated by a glowing red drop on its tail. 
Stats
Health
Attack
Defense
Magick
Attack
Magick
Defense
Weight
18000
1550
680
1300
750
 ??
Relative
Damage
Slash
Bash

Fire

Ice

Thunder

Holy

Dark
100%
75%
50%
150%
50%
100%
20%
Sources: Dragon's Dogma - ドラゴンズドグマ & Dark Arisen (www10.atwiki.jp) and in-game testing.
Tactics
Strong against Holy enchanted weapons and spells.
Weak against physical damage and Ice enchanted weapons and spells.
Vulnerable to Torpor and Petrification.
Strigoi are defenseless once grounded and can be grabbed and held down.
They get stronger as the fight drags on; pawns will yell this out if it is taking a while to kill them.
Pawn Bestiary Knowledge
For full informations, refer to the Bestiary page or the according section on the Harpy page.
Enemy specific :
Weak to Ice
Inflict Torpor
Freeze then shatter
Obtain a Bloodred Crystal by letting a one grab a pawn and suck blood until the Strigoi's tail glows red, then kill the beast
Get them down and grab them
In addition to witnessing these techniques, it is necessary for Pawns to participate in killing 100 Strigoi either with their own Arisen or while travelling with others.
Notes
In Romanian mythology, 'strigoi' are the troubled souls of the dead rising from the grave. Some strigoi can be living people with certain magical properties. Some of the properties of the strigoi include the ability to transform into an animal, invisibility, and draining the vitality of victims via blood loss. Strigoi are also known as vampires. (Source Wikipedia:Strigoi)
With its design, the Strigoi strongly resembles the "Red Arremer" enemy from Capcom's Ghosts 'n Goblins series.
Gallery