Supplier's Demand
Comments

33
2,975pages on
this wiki
Supplier's Demand is a quest available in Dragon's Dogma.
Description
Edit
Once Madeleine has opened up shop and the Arisen has visited the duke, she will inform the Arisen that she wants a prized idol as a status symbol to get better supplies for her store.
Delivering her a Gold, Silver, Bronze or Cursed Idol will improve the items sold in her store. Note that you can only give her one idol; a Gold Idol cannot later be given to her if you've already given her a Bronze Idol, for example.
Walkthrough
Edit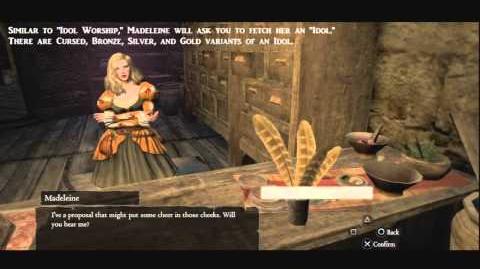 The Gold Idol you get from an
Escort Duty
quest for
Symone
, which can be started by talking to
Fournival
after completing
Land of Opportunity
and
Chasing Shadows
.
The Silver Idol is acquired as a reward for completing Put the Eye Out, which can be obtained from the Pawn Guild Notice Board.
A Bronze Idol can be found in the lair of The Dragonforged at Hillfigure Knoll, as well as Selene's Hut in Witchwood.
A Cursed Idol can be found just outside The Abbey in the center of a circle of flowers.
Depending on which Idol you give her, she'll start selling equipment of varying levels. Giving Madeliene a Gold Idol will give you the best upgrade to her inventory while giving her a Cursed Idol will net you the worst upgrade to her inventory, with Silver being better than Bronze. Choose wisely.
You might want to consider saving the Gold Idol for the Idol Worship quest, which is an identical quest for Caxton once he prompts you after speaking to the Duke. In general, Caxton's improved items are geared more towards weaponry and heavy armor, while Madeleine's are geared more towards magic items and more "female" equipment.
Giving her a forged idol has negative, if potentially amusing, consequences.