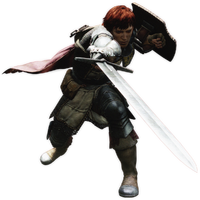 Regular-sized blades used by
Fighters
,
Mystic Knights
and
Assassins
. They are often wielded in tandem with
Shields
.
One-Handed sword skills are primarily based upon exploiting the versatility of the sword, movement of the player, and openings left by the enemy. Using a shield in combination with a sword allows the player to exploit both versatile attack and defense turning them into a deadly opponent.
(Mystic Knight)- using the Dark Anguish enhancement will give players an edge on more mobile and even flying creatures such as harpies.  This is because it will increase the attack range, and not affect the current enchantment.  Meaning that you can use any enchantment and still have this skill active.
One-Handed Swords List
Edit
All swords are listed with dragonforged stats and are sorted from strongest to weakest using the strength and magick stats combined.