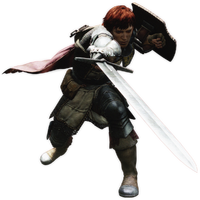 Regular-sized blades wielded by
Fighters
,
Mystic Knights
and
Assassins
. Swords offer a decent amount of range and power and are often wielded in tandem with
Shields
. Swords are sharpened to deal 
Slashing
damage.
One-Handed sword skills are primarily based upon exploiting the versatility of the sword, movement of the player, and openings left by the enemy. Using a shield in combination with a sword allows the player to exploit both versatile attack and defense, turning them into a deadly opponent.
One-Handed Swords List
All swords are listed with dragonforged stats and are sorted from strongest to weakest using the strength and magick stats combined.