Talent in Bloom is a quest available in Dragon's Dogma.
Overview
"Quina asks you deliver her Blessed Flower to others, that she may prove her potency as a healer and earn passage to the Grand Cathedral."
Give Quina's Blessed Flower to someone who can appreciate her work to further her desire to be admitted to the Grand Cathedral in Auldring. The flower must be gifted afore it wilts.
Walkthrough
This quest becomes available after the player has completed the quest Come to Court, and becomes defunct after the quest Reward and Responsibility is done.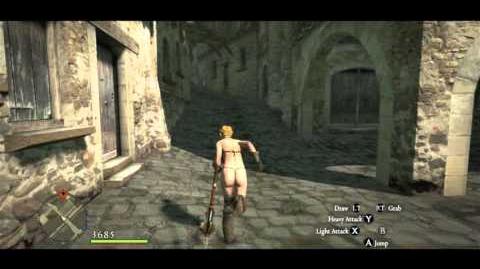 Speaking to Quina at The Abbey in the Wilted Forest will begin this quest. Quina will request that the Arisen show flower to another in order to prove her skill as a healer, and demonstrate her devotion to the faith.
A number of people can be gifted the flower to complete including Quina herself. Any high-ranking official member of the faith will do, and Geffrey at Gran Soren Cathedral is most appropriate, and Clemente at the church in Cassardis also has contact with the mainland.
Once the flower has been gifted, return to Quina to tell of how her offering as received.
Notes
Quina can be gifted the flower herself, though this pointless circular action annoys her - she'll get frustrated and say it won't help her. It does however complete the quest.

If Quina has high affinity before being gifted the flower, she will comment on how her happiness at being gifted the flower does not stem from the flower itself.
The subsequent quest, A Parting Gift, becomes available soon after bringing about a successful conclusion to this quest. It will initiate on returning to the Abbey (includes entering and exiting via the nearby riftstone).