The Centennial Bloom is a DLC quest available in Dragon's Dogma.
Objective
Details
"A legendary flower said to blossom but once in a century has been seen in the south. For a collector of such botanical rarities, 'tis a chance I cannot hope to encounter again. The specimen is said to bloom in strong sunlight. I will see the one who finds it is well rewarded."
This quest becomes available on the Arsmith's Alehouse notice board after the quest A Warm Welcome.
Location
The location of the Noonflower is above an encampment in Bloodwater Beach, and can only be reached by heading up the ledge on the canyon wall opposite said encampment.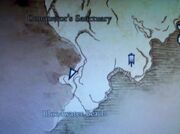 Enter the canyon from
Conqueror's Sanctuary
, look to the left while heading South. There should be a ledge leading up the Eastern canyon wall. Follow the ledge half way up, and then look over to the West until the encampment can be seen down on the canyon floor. From that perch, a single
Noonflower
on a ledge opposite of the perch should be visible. Pawns will often make a comment about needing to jump over.
Once the player has gotten the lone Noonflower, continue around the cliff and jump to another ledge also directly above the encampment. This will lead into a small cave that has a Level 2 chest and some loot around.