The Encampment
Comments

9
2,977pages on
this wiki
The Encampment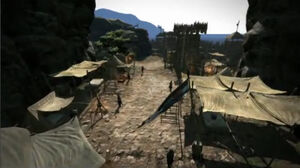 Location Info
The Encampment is a location in Dragon's Dogma.
A camp for soldiers stationed to defend Cassardis from monster attacks. It is the second settlement the player visits, and has a Riftstone whereby the player can summon his/her pawn.
"Manamia was once a beautiful settlement. Generations ago, it was a place where a man could find a wife and raise a family. Now, the area is the headquarters for soldiers on alert for monsters threatening Cassardis. Were you to visit, you might experience the wonder of a riftstone, where other pawns appear before your very eyes. When faced with the intimidating flames of the dragon, I remind myself that the Arisen will save us and that I must serve him."
Other Locations
Edit
Rest and skill learning
Characters
Edit