The Ruins of Aernst Castle
Comments

24
2,983pages on
this wiki
The Ruins of Aernst Castle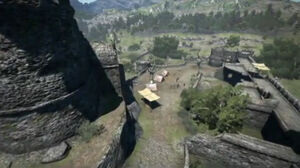 Location Info
The Ruins of Aernst Castle is a location in Dragon's Dogma.
A bandit base located near the coast.
"I did not ask to become leader of this band of thieves. Nevertheless, it is my birthright and one I've embraced with open arms. As a bandit and a man, I make my own path. I've been on the run for longer than you've been alive, with no intention of getting caught. Every month or so the duke sends some weak-boned adolescent to try and oust us from the ruins, and every month we return him to his superiors relieved of his wallet and his dignity. We wonder if they'll ever learn."
Characters
Edit
Notable Loot
Edit