Trophy Boots is armor available in Dragon's Dogma: Dark Arisen.
Description
"Quality leather boots fashioned of saurian sage hide, they slightly boost the amount of weight their wearer may carry unhindered."
Part of the Trophy Armor Set.
Usable By
Stats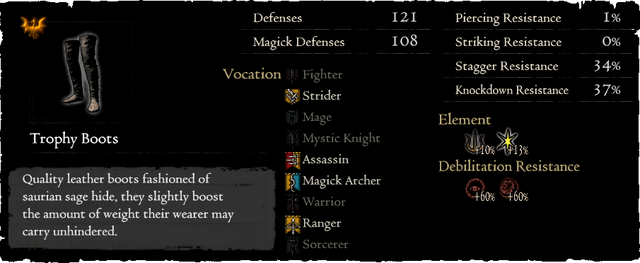 Location
Enhancement Item Locations
Notes
The Trophy Armor Set (Trophy Jacket, Trophy Bracers) offers the best Magick bonus possible.
The base add to magick is an additional +30, which can be increased if magick-multiplying augments are equipped on the character, such as Acuity, Attunement, Bloodlust, Ferocity, Equanimity, and/or Autonomy. Note that some of these augment effects are conditional depending on the Arisen's environment and state of health or even the selected skill.
Gallery