Undead Warrior
Comments

7
2,943pages on
this wiki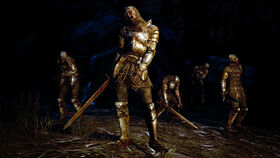 Undead Warrior is a Monster in Dragon's Dogma.
The reanimated remains of once valiant Warriors, these unholy beings are a pale shadow of their former selves. They still carry the armor and weapons of their past life and still know how to use them, although they can't use skills and many prefer to simply grab and bite their prey. Because of the armor, they have increased defense and HP and can do more damage than their lesser Undead counterparts.
| Attack | Type | Description |
| --- | --- | --- |
| Grab | Phys | Grabs a nearby target and bites them for continuous damage until they free themselves (Wiggle the L-stick). Multiple Undead can join in this attack for extra damage. |
| Slash | Phys | Sweeps it's sword at you in a slow, but wide arc. |
| Flail | Phys | Flails it's arms at targets, longer range due to holding a sword. |
THIS SECTION REQUIRES CONTENT!

Please help Dragon's Dogma Wiki
by contributing.
Locations
Edit