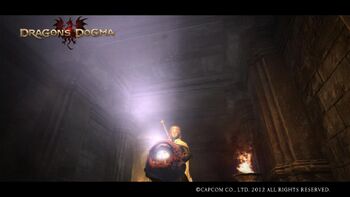 Vile Eye is an Enemy in Dragon's Dogma.
A smaller version of the Evil Eye, they look like a floating Eyeball with no eyelids and no tentacles attached.
Information and Stats
Edit
General Info
Edit
| Health | Attack | Defence | Magick Attack | Magick Defense | Weight |
| --- | --- | --- | --- | --- | --- |
| 2000 | 600 | 250 | 1,200 | 650 | 20 |
Damage Taken
Edit
| Slash | Bash | Fire | Ice | Thunder | Holy | Dark |
| --- | --- | --- | --- | --- | --- | --- |
| 100% | 75% | 30% | 30% | 30% | 100% | 10% |
| Attack | Type | Description |
| --- | --- | --- |
| Barrier | Spec | Protects itself from all damage while not attacking. Can be broken with enough magic attacks. |
| Charge | Phys | Charges into you. Does not lower it's barrier in this attack. |
| Summon Tentacles | Spec | Summons tentacles infinitely from the ground until it is killed. It summons them without lowering it's barrier. |
| High Ingle | Mag | Casts 3 fireballs at your party. |
| Tentacle Grab | Phys | Summoned Tentacles can grab targets and throw them a fair distance away. |
| Tentacle Attack | Phys | Tentacles will lash out at nearby targets knocking them backwards a little. |
| Tentacle Magick | Mag | Casts various low level spells such as High Ingle/Frigor/Levin. |
| Ocular Magick | Mag | The Vile Eye casts various spells at the party such as (need confirmation of these spells). Its barrier is down while it casts. |
Bestiary
Edit
Evil Eye Strategy scrolls as well as other techniques are shared between Evil Eyes and Vile Eyes and as such will grant bestiary knowledge for both of them.
Enemy Specific
When knocked to the ground (but not killed) they can be grabbed and picked up. This grants knowledge regardless of what one does with it later.
Tactics (Offensive)
Edit
Weak against Holy enchanted weapons and physical attacks.
Immune to all debilitations.
Has relatively low HP and is easy to stagger.
The magical barrier is completely impenetrable (like the Evil Eye). Wait until the Vile Eye begins to spellcast before attacking it.
Use bows or dash skills like Burst Strike or Cutting Wind to quickly close the distance once the Vile Eye drops its magical barrier and begins to spellcast.
Killing a Vile Eye will simultaneously kill any Tentacles it may have summoned from the ground.
Mages & Sorcerers : Since magic does very little damage to Vile Eyes, magic vocations have 2 attack options. Use the heavy physical staff strike when Vile Eyes lower their shields to spellcast, or use Comestion (preferably with the Emphasis augment) to knock them skyward and interrupt their spellcasting.
Tactics (Defensive)
Edit
The primary general defensive strategy in Dragon's Dogma is to first eliminate all lesser, distracting enemies before engaging the biggest threat. From the start, shoot down the flying creatures, sniper the magic users from afar, chase down the wolf packs, etc before tackling the huge behemoths. Pawns generally focus on the largest threat and get picked apart by the support enemies which distract or debilitate them. So even if the Arisen has to run all the way up and down the map to accomplish this objective, KILL THE SUPPORT ENEMIES FIRST, THEN TACKLE THE BIGGEST THREAT LAST.
Beware its Petrification gaze. Wear Petrification resistant armor if possible. As a backup, bring Cockatrice Liquor or Secret Softeners to cure Petrify. The Sorcerer's High Voidspell and the Magick Archer's Great Ward Arrow can cure Petrify as well.
If picked up while stunned or knocked down, the Vile Eye can be used to inflict Petrification upon enemies via a light that the Vile Eye will produce. Doing so will gain your Pawn knowledge.
The Vile Eye bears a strong resemblance to the Beholders of the Dungeons & Dragons role-playing game.