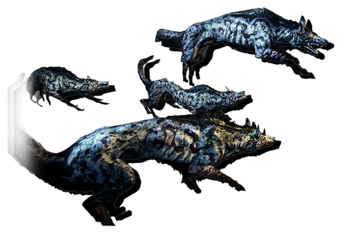 Warg
is an 
Enemy
in
Dragon's Dogma: Dark Arisen
.
Overview
They are a larger version of Wolves with bluish-grey black-mottled fur, found on Bitterblack Isle. Wargs hunt in packs, just like their cousins.
Wargs are neither strong nor hardy, but very agile and often dodge attacks directed at them. Their bite reliably inflicts Poison, but may also inflict Torpor.
Type

Monster / Wolves

Experience
gained
Base Experience of 720

Can be more or less depending on a few factors such as:

Location

Items
Stats
Health
Attack
Defense
Magick
Attack
Magick
Defense
Weight
4000
580
190
300
200
 ??
Relative
Damage
Slash
Bash

Fire

Ice

Thunder

Holy

Dark
100%
70%
125%
70%
70%
100%
100%
Sources: Dragon's Dogma - ドラゴンズドグマ & Dark Arisen (www10.atwiki.jp) and in-game testing.
Tactics
Many tactics against Wargs are identical to those used against Wolves .
Can be set on fire, and torpored.
Use fast-dash skills like Cutting Wind and Burst Strike.
Very rarely, they use a bite ability that is an instant kill. The character must be knocked to the ground first.
Carry curatives for Poison if no healing Mage is present as Wargs are likely to inflict Poison in the course of a battle.
Pawn Bestiary Knowledge
For full information, refer to the Bestiary page or the according section on the Wolf page.
Enemy specific:
Witness them dragging a character away.
Getting poisoned by their bite attack. Pawns yell "Ready the Mithridate!"
In addition to witnessing these techniques, it may be necessary for Pawns to participate in killing 200 Wargs and to obtain a combined kill count with Garm of 300, either with their own Arisen or while travelling with others.
Trivia
In Norse mythology, a vargr (anglicised as warg or varg) is a wolf, and in particular refers to the wolf Fenrir and his sons Sköll and Hati. (Source Wikipedia:Warg)
The Wargs in J.R.R Tolkien's Hobbit and Lord of the Rings book are large evil wolf-like creatures.
Wargs are common in other fantasy books, video games, and other media, and are almost always wolves or wolf like creatures.
Gallery
References