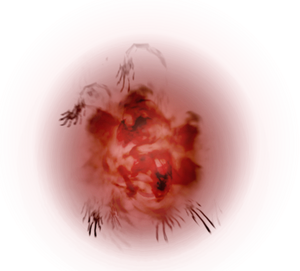 Wraith is an Enemy in Dragon's Dogma: Dark Arisen.
Overview
Wraiths are Ghosts with a red hue. Their attacks are like those of other ghosts: they can possess their victims, draining their health as well as instantly send an already unconscious pawn to the Rift. The possession attack is especially dangerous when the victim's health is low - at high health the onset and damage is slow and rather weak. Wraiths may inflict debilitations like Drenched or Curse by rushing their incorporeal form through their target.
Like other ghosts, Wraiths are resistant Dark, weak against Holy magick, and immune to physical damage except when possession an ally.
Type

Ghost

Experience
gained
Base Experience of 3000

Can be more or less depending on a few factors such as:

Location

Bitterblack Isle Pre-Daimon

Post-Daimon

Items
Stats
Health
Attack
Defense
Magick
Attack
Magick
Defense
Weight
6000
500
700
1800
650
incorporeal
Relative
Damage
Slash
Bash

Fire

Ice

Thunder

Holy

Dark
immune §
immune §
100%
100%
100%
150%
20%
Sources: Dragon's Dogma - ドラゴンズドグマ & Dark Arisen (www10.atwiki.jp) and in-game testing.
§ Except when possessing a victim
Tactics
Weak to Holy enchanted weapons and spells.
Any vocation may defeat Wraiths quite easily through the use of Throwblasts: Wait for their possession attack (look for their "arms") and move within range so they can latch on, or wait for a Pawn to be possessed. Then equip a Throwblast and either aim for the possessed Pawn or a nearby object. This typically kills the possessing Wraith in a single hit.
Characters caught by the clinging attack of a Wraith may be freed by striking them or by shooting the Wraith with arrows. Alternatively, Explosive Barrels and other enemy strikes may also get rid it.
Keep an eye on pawns and listen for their calls for help.
Because Wraiths usually take time to kill, best clear the battlefield of other enemies before focusing on them.
Pawn Bestiary Knowledge
For full information, refer to the Bestiary page or the according section on the Phantom page. Enemy specific:
In addition to witnessing these techniques, it is necessary for Pawns to participate in killing 30 Wraiths either with their own Arisen or while travelling with others.
Links