"What will you be? Man? Dragon? Or aught else?"
Wyrms are powerful magickal casters, possessing an array of deadly magickal attacks, the means of flight, and the ability to breathe Ice to freeze their foes solid. All lesser dragonkin can seize control over the will of Pawns to turn them against the Arisen. The Wyrm bears a glowing stomach where its heart resides, which serves as an exploitable weakness.


Description
Edit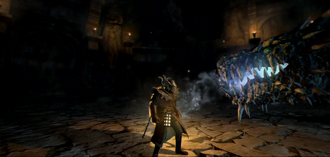 One of the smaller cousins of the titular
Dragon
in Dragon's Dogma. The Wyrm is one of the lesser dragonkin encountered in the game and is only encountered after
The Final Battle
.
Wyrms are similar to their cousin species, the Drake and the Wyvern, bearing many of the same abilities and characteristics. Wyrms are related to the Ice element. As such, the Wyrm bears a natural weakness to Fire based attacks.
Defeating a Wyrm has a minor chance of dragon forging the player's equipment as long as that equipment has at least one level of enhancement.
Information and Stats
Edit
General Info
Edit
| Health | Attack | Defense | Magick Attack | Magick Defense | Weight |
| --- | --- | --- | --- | --- | --- |
| 60,000 | 800 | 270 | 1,300 | 800 | 4,500 kg |
Damage Taken
Edit
| Slash | Bash | Fire | Ice | Thunder | Holy | Dark |
| --- | --- | --- | --- | --- | --- | --- |
| 100% | 100% | 150% | 25% | 100% | 100% | 100% |
Debilitations/Resistance
Edit
 

| Debilitation | Resistance |
| --- | --- |
| Burning |  Weak |
| Drenched |  Immune |
| Tarring |  Immune |
| Frozen [1] |  Resilient |
| Blindness |  Immune |
| Curse |  Immune |
| Lower Defense |  Resilient |
| Lower Magick |  Resilient |
| Lower Magick Defense |  NA |
| Lower Strength |  Resilient |
| Petrification |  Immune |
| Poison |  Weak |
| Possession |  NA |
| Silence | Resilient |
| Skill Stiffling |  NA |
| Sleep |  Immune |
| Torpor |  Weak |
↑

While they are vulnerable to the Frozen status, it's impossible to shatter Dragonkin.
Attack
Type
Description
Ice Breath
Mag
A massive stream of ice is let loose from its mouth. Can cause Frozen. The Wyrm can use this move while moving forward or backing away from its target(s).
Dive
Phys
A powerful lunge from the air.
Charge
Phys
Charges at a target on the ground.
Grab (Arisen)
Phys
The Arisen is grabbed and then smashed into the ground.
Grab (Pawn)
Spec/Status
A Pawn is grabbed, but instead of being smashed into the ground, the Wyrm seizes control of its actions. Causes Possession, which turns the Pawn against the Arisen.
Stomp Attack
Phys
A powerful attack with its feet.
Sweeping Backhand
Phys
A backhanded slap with either one of its front claws.
Tail Sweep
Phys
A powerful spinning attack with its tail.
Roar
Spec/Status
A roar that kills all pawns within range, staggers the Arisen and can cause Skill Stifling.
High Frigor
Mag
Creates three spires of ice which can throw its targets into the air and freeze them.
High Levin
Mag/Status
A series of lightning bolts are created which can cause Thundershock.
High Bolide
Mag
10 meteors are summoned to indiscriminately lay waste to the battlefield.
(This will be indicated vocally by the Wyrm)
Lassitude
Mag/Status
An area of effect sigil is created, inflicting Torpor on those who remain within it.
Exequy
Mag
A field of death is cast, killing anyone who stands within its area of effect upon the spell's completion.
Anodyne
Mag/Spec
The Wyrm is still for a moment, then restores 1.75 bars of its health.
Locations
Edit
↑

This Wyrm's dialogue is spoken in English.
Bestiary
Edit
Refer to the Pawn Bestiary Knowledge section on the Drakes page.
Enemy Specific
In addition to witnessing these techniques, it may be necessary for Pawns to participate in killing 15 Wyrms either with their own Arisen or while travelling with others.
Tactics (Offensive)
Edit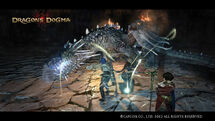 Tactics (Defensive)
Edit
Tactics (Pawn-specific)
Edit